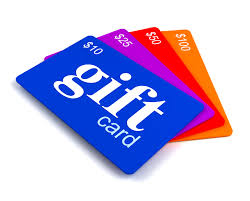 It's Christmas time, make sure your gift card program is up and running! If you are not set up with gift cards you are losing money. People wanting gift cards pay for the card upfront and most of the time the beneficiary doesn't even use the entire balance on the card, so don't lose money on the table.
If you don't have a gift card program in place, we can set you up with the best program in the industry. No one can beat our program because it is absolutely FREE! Get rid of the pesky paper gift certificates and upgrade to Plastic Gift Cards. No better way to not only upgrade to Plastic, but let us give you 25 Gift Cards for FREE!
Not only do you get 25 FREE Gift Cards, you get to CUSTOMIZE them with your own business logo for FREE. Plus, the program has absolutely NO Transaction Fee and NO Monthly Fee, so it's a win win for you and the customer.