Exatouch POS System Bundle for the Retail and Hospitality Industries
---
Free State-of-the-Art POS System!
Free Cutting-Edge Software!
Free Onsite Installation!
Lifetime Replacement Warranty!
Utilize Free Processing or Traditional Processing
Pistol-Grip Tablet for Mobile Inventory
Order at the Table Tablet
Online Ordering
Kitchen Display Monitor for Restaurants
As Low as $29 Monthly
Exatouch POS Bundle for Restaurants
---
The Exatouch POS Bundle is perfect for restaurants, pubs, bars, cafes, quick-serve coffee shops and more. It has all the features needed to operate a successful restaurant as well as employee management, floor mapping, menu management, customer management, discounting, happy hour, split tickets and so much more. Also, Exatouch is the only POS on the market with a free loyalty program which is a huge advantage over competitors. If you want to streamline your restaurant, you can use the tableside ordering as well as online ordering which is a requirement in todays economy.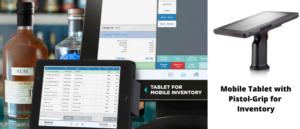 Exatouch POS Bundle for Retail
---
The Exatouch POS Bundle is a very versatile system because of its dual threat software. Exatouch does not limit to just the hospitality industry, its retail software is just as robust. The retail software has all the key elements needed to run businesses of all shapes and sizes. One of the top features in this bundle is its inventory management. If you are looking for something to accelerate the inventory process, you can elect to get the Mobile Tablet with a Pistol-Grip. Point and click and it sends to the main POS in lightning speed which shortens the inventory process reducing time which in turn saves money on employees.
Key Features for Exatouch 
• Menu Customization: Add, edit or remove menu items in
real-time with a simple and intuitive interface. Organize
your menu items, categories, choice sets and modifiers to
suit your restaurant.
• Efficient Ordering: Easily manage the most complicated
orders, whether you need to transfer tickets to other users,
change tables, split checks, add discounts, update gratuity
and taxes, or handle various other tasks.
• Online Ordering: Hotsauce creates and maintains a online ordering
website for our customers. Custom design for layout, upload pictures of items
as well as any extra info on your restaurant. We also automatically verify
the radius of customer's address before allowing order
• Advanced Reporting: Daily Summary, Tax Summary, Surcharge Summary,
Labor Cost By Job, Labor Cost By Hour, On Hand Cash, Duplicate Credit Card Transaction, Paid Out Detail, Paid Out Summary, Paid In Detail, Paid In Summary,
Online Order Summary, Open Batch Report, Settled Batch Report plus a bunch
more. Truly the most impressive reporting.
• Bar Tabs: Simply hold an open ticket and continue adding items until
the customer is ready to close the ticket and pay.
• Employee Tracking: Have employees tracked to the end
of each order including the payment information.
• Employee Management: Track your employees with a built-in
time clock and view a detailed breakdown of hours worked for
each employee or each day as well as their productivity. Security
levels allow you to control the functions that particular employees
are authorized to use.
• Cashier Functions: Servers have the ability to use their own logins to
place orders while cashiers check out the customer when they leave.
Cashiers reports will show cash, but also allows the credit card tips
to go to the correct server.
• Split Items & Split Checks: Very easily split appetizers and meals
between multiple customers at one table, including splitting the payments.
• Seat Management: Assign seat numbers to customers to help manage
tables and staff members.
• Hold & Fire Buttons: Enter an item and select the Hold Button until the customer is ready. Staff also the ability to set timers to Unhold and auto print.
• Merge Tables: Combine 2 open tables to one check.
• QR Code Ordering: Hot Sauce can provide QR Codes for your website or printing on
a coupon. Customers can place order when they sit down at assigned tables without the need to speak to staff.
• Happy Hour Pricing: You can make specific items change pricing at a specified time.
• Free Loyalty Program: Track guest sales and allow them to accrue points to
redeem for goods or services.