Clover POS Systems
---
The Clover brand has become one of the more popular POS systems in the industry. Clover has a line of POS sytems that offer businesses more options for equipment. It has an an advantage over many POS systems because most competitors have just one POS system, whereas Clover offers several products that can work in tandem with each other. This makes Clover a more attractive alternative.
Clover Products
---
The Clover Products below operate like every other POS system, but with a tad more advantages over competitors. It has an App Market, which adds an additional element to a POS solution. Plus, all units sync with one another giving you the ability to streamline your business operations like scanning inventory in a shopping isle and have it sync with the main POS. The Clover offers a more powerful POS solution but can also be a little more pricier than its competitors, however it all-in-all is a strong favorite because of its flexibility and ease of integration.

*NEW*

Clover Duo POS System
---
All Clovers require a Starter Kit. Each Kit is different for each Device. Look below each device to see what comes in each Kit. We are giving you the Kit for FREE.
Purchase Options: NO Contract 
Clover Duo Bundle – $1,930 or 6 Payments of $329.99
⇒ Package includes the POS Tablet, Cash Drawer, Mini Pin Pad, Printer & Free Starter Kit.
⇒ Starter Kit is valued at $150 and contains: Quick Start Guide, Display Cable, Hub, Power Brick & Cord, Ethernet Cable, Screwdriver & Receipt Paper.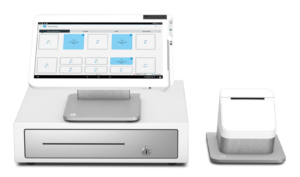 Clover Solo Bundle with P500 Printer – $1,730 or 6 Payments of $289.99
Clover Solo Bundle with P550 Customer Display Printer – $1,799.00 or 6 Payments of $299.99
⇒ Package includes the POS Tablet, Cash Drawer, Printer & Free Starter Kit.
⇒ Starter Kit is valued at $140 and contains: Quick Start Guide, Hub, Power Cable & Adapter, Velcro Hold-downs & Receipt Paper.
⇒ $39.95 Monthly Software Fee & $9.95 per Additional Device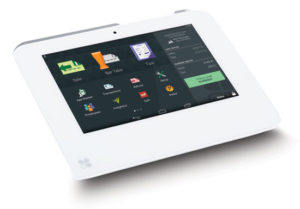 Clover Mini POS System
---
Purchase Options: NO Contract
Clover Mini – $799 or 3 Payments of $269.99
⇒ Package includes the Tablet, Printer & Free Starter Kit.
⇒ Starter Kit is valued at $75 and contains: Quick Start Guide, Hub, Power Cable & Adapter & Receipt Paper.
Limited Features:
⇒ $9.95 Monthly Software Fee for Register Lite which has Limited Features
Full Features: 
⇒ $39.95 Monthly Software Fee & $9.95 per Additional Device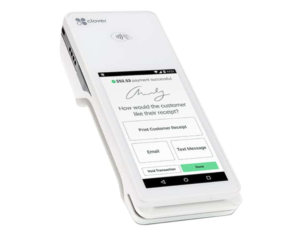 Clover Flex Mobile POS
---
Purchase Options: NO Contract
Clover Flex – $699 or 3 Payments of $233.99
Limited Features:
⇒ $9.95 Monthly Software Fee for Register Lite which has Limited Features
Full Features: 
⇒ $39.95 Monthly Software Fee & $9.95 per Additional Device