VITAL "Select" E-Series POS & VITAL "Plus" Handheld POS 
---
Payment processing has evolved. Synergy Merchant Solutions is constantly updating our product line to provide merchants with the latest and greatest products and with our new addition to the VITAL Select E-Series (formely RiO) "All-in-One" POS System we have also added the VITAL Plus System which is a mini handheld device with POS capabilities.

VITAL "Select" E-Series "All-in-One" POS SYSTEM 
---
The VITAL Select E-Series POS System comes with your choice of the E-13(13" Screen Size) and the E-15(15"Screen Size).  It has a intuitive interface and operates very smoothly which makes it simple to use. Because of this, you can now accept credit cards more efficiently.  The VITAL Select E-Series POS System is an "All-in-One" which allows you to have all features on one system. You can process credit cards while capturing signatures electronically, manage all of your inventory and even track your customers sales. With the VITAL E-Series POS System you can easily add new products, create discounts for products, email the receipts to customers, change pricing on goods and easily hold transactions. It can connect via Ethernet or Wi-Fi. Other POS Systems are lengthy when it comes to updating, however the VITAL Select E-Series POS System updates quickly and easily making your transaction info accessible and securely through browsers or mobile devices.
Purchase Options: NO Contract
E-13 (13" Screen Size) – $1,270 or 6 Payments of $232
E-15 (15" Screen Size) – $1,470 or 6 Payments of $268
⇒ $19.95 Monthly Service Fee

FREE Option: Contract
E-13 (13" Screen Size) – $69 / Monthly
E-15 (15" Screen Size) – $79 / Monthly

Hardware Features:
Everything Included in One POS System
Cash Drawer
Receipt Printer
Plug-and-Play
ELO Touch and Flip Screen
Modern Design
Robust Structure
Connects by Ethernet or WiFi
PCI Compliant
Back Office Features:
Live Dashboard
Sales and Analytics
Taxes
Discounts
Users and User Groups (ex: owner, manager, cashier)
Receipt Layouts
Multi Locations
Cloud Syncing
Import & Export Inventory List
Inventory Tracking & Reorder Trigger
Inventory Management
Export Sales Report
Transaction, Batch, Tenders, Audit reporting
Full Menu Layout; Screen Categories
Open Tabs / Hold Order
Partial Refund, Full Refund
Tips
Close Out Report (x report)
Cash-in and Cash-out feature
Safe Drop feature
EMV/NFC
Cloud Syncing to Back Office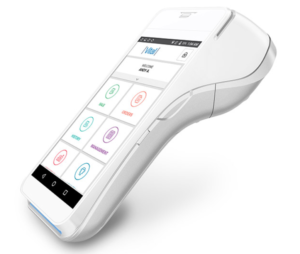 VITAL "Plus" Handheld POS System
---
The VITAL Plus is a the handheld version of the VITAL Select. It has a most features of the Select, but it also has additional features that the Select does not have. The Plus has a 5″ touchscreen display with an ergonomic design and is very powerful for a mobile device. The VITAL Plus handheld is a small portable device that is reliable, easy to use and will help your business operate more efficiently. Check out features below.
Purchase Options: NO Contract
VITAL Plus Handheld POS –  $330 or 3 Payments of $119
VITAL Plus Handheld POS with Charging Base –  $449 or 3 Payments of $159
⇒ $10.00 Monthly Service Fee

FREE Option: Contract
VITAL Plus Handheld POS – $35 / Monthly
Features:
All features of the VITAL Select except:
Manage Shifts
Email or Print Time Sheets & Cards
Custom Pay Periods
Calculation of Wages
Overtime Management
Employee Time Clock & Time Clock Reports
Additional features that VITAL Select does not have:
Mobile Bi-Directional Bar-code Scanner
Take Payments or Orders in Lines
Portability with Option to Take On-the-Go